Cash Flow Forecast Model
Participants have exclusive access to a MuniCast simplified cash flow forecast model that projects revenues, expenditures and associated balances into the future. This tool helps identify liquid and core segments of portfolios, enhance investment earnings and better manage market and liquidity risks.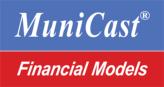 MuniCast Simplified Cash Flow Model for IMET Participants
---
---
For more information, please contact:
Sofia Anastopoulos - IMET Executive Director
630/571-0480 ext. 229
or
Deb Zimmerman - IMET Associate Director
618/665-4638.