May 2019 IMET Monthly Newsletter
Wednesday, May 8, 2019 in Monthly Newsletters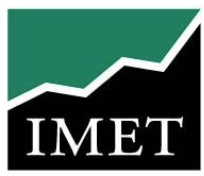 New IMET Website
We are proud to announce the new IMET website, http://www.investIMET.com. After a rigorous search and evaluation process, the IMET Board engaged Elmhurst-based Spinutech to create an updated website. The new site is very user friendly, easy to navigate, and, most importantly, chock-full of resources, tools and timely information and news. Please visit us often online. Let us know what you think.
And More.... New Look to the IMET Monthly Newsletter
You have likely noticed a new look and format to this, the May IMET Monthly Newsletter. We will be taking advantage of the resources of mailchimp to communicate better with IMET participants. Our goal is to provide you valuable information and news. Let us know what you think about the new look. If there is something you would like to read about here, let us know at sofia.ana@investIMET.com.
Economic Update
During the month of April, the Federal Reserve decided to leave interest rates unchanged, keeping the benchmark FFR in a range of 2.25%-2.50%. This was expected by most economists and analysts. Overall inflation, for items other than food and energy, has declined and is now below 2.00%. This low inflation number further supports the decision of the Fed to leave rates unchanged. Central bankers had earlier signaled two additional rate hikes before 2019 year end, however, that number has been cut to zero.

Overall, economic data released during the month of April was positive. Nonfarm payrolls rose at a strong level of 263K, shattering the Dow Jones estimate of 177K. Breaking down payrolls by sector, business services, education, construction, manufacturing, and health industries all grew at positive rates. Meanwhile, retail jobs fell for a third straight month, partly reflecting the growing number of retail bankruptcies and store closures. Unemployment also improved to a rate of 3.60%, the lowest it has been in 49 years. Taken together, increasing nonfarm payrolls and record low unemployment rates, indicate an economy that is still growing.
Invest with IMET 3 Ways
1. Phone - call the IMET Operations Desk at (888) 288- IMET (4638)
2. Online - access IMET's online portal.
3. Email - send an email to IMET at imet.purchase.redeem@investIMET.com .
Contact Us!
Executive Director, Sofia Anastopoulos or (312) 519-1637.
Associate Director, Debra Zimmerman or (618) 665-IMET (4638).
Administrative Assistant, Gina Ballestra or (630) 571-0481, ext 230.

We want to hear from you,

IMET 1-3 Year Fund Performance
| 04/30/2019 | Net 1-3 Year Fund Returns | Gross 1-3 Year Fund Returns | Bloomberg Barclays 1-3 Yr. Govt Index |
| --- | --- | --- | --- |
| Month | 0.18 | 0.20 | 0.20 |
| Latest 1yr. | 2.73 | 3.01 | 3.12 |
| Since Inception** | 3.04 | 3.35 | 3.34 |
| Yield to Maturity | 2.51 | 2.51 | 2.30 |
| Wtd. Avg. Mat. | 2.00 yrs | 2.00 yrs | 1.97 yrs |
| Duration | 1.79 | 1.79 | 1.90 |
* IMET returns are calculated based on beginning period and ending period NAVs
** Since Inception returns are calculated from July 1996 through the most recent month end

IMET Convenience Fund Performance
04/30/2019
IMET Convenience Fund

S&P GIP Index*

Federal Funds Rate
Target Range

Month

0.19

NA

Avg. Daily Yield for Month

2.34

2.32

2.25 % - 2.50%

Latest 1 yr.

2.08

2.11

Wtd. Avg. Maturity

116 days

76 days
* S&P GIP Index is an S&P Global index comprised of 10 government investment pools (GIPs). The portfolios of these pools consist of government backed product and hold no credit product (ie commercial paper or corporate securities). Performance is shown net of fees. Average Daily Yield for month on a gross of fees basis is 2.47%.

---
Back to All News